A new era of modern film sounds
Whats included in the pack?
Inspired by movies like Blade Runner, Interstellar, The Lighthouse, and shows like Stranger things and Dark, we present you with one of the most diverse collections of sound effects and stand-alone scores, all at your disposal.
The sound files have been meticulously organised into categories, making it possible for you to imitate any musical genre or mimic any current music trend at your whim. Solaris has you covered with everything from feature films to independent shorts, braams and glitches to science fiction and retro, providing you a solution that is nearly as simple as dragging and dropping.
Sci-Fi (85)
Weird (106)
Retro (136)
Pulsating Tones (19)
Cinematic Essentials (38)
Glitches (22)
Subtle Hits (24)
Whooshes (22)
Braams (41)
Wind (9)
Bonus (39)
License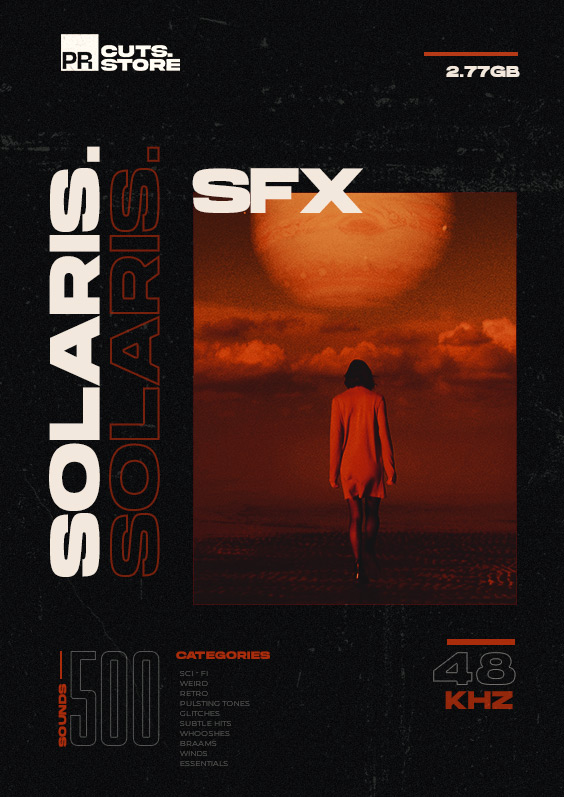 500+ Original SFX & Underscores
All files format – 48khz 24 bit .WAV
Royalty Free
Compatible with Premiere Pro and other editing software
Professionally mastered sounds inspired by critically acclaimed films
Includes all the popular genres : Sci-Fi, Retro, Weird & Horror